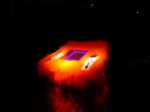 Speech – an ultimate power to brew ideas in masses, reshape geography, turn history. A single voice multiplied in heads of thousands and millions of people. A word that changes reality, becomes a reality. And now it is yours, now it is your voice, history is speaking with your voice, and it is you who defines how it should sound.
KaraTribune – literally "empty tribune" is a rostrum for great orators, historical and famous figures – and it is your rostrum, it is your address to the audience and to the history. Easy to use if you are familiar with Karaoke, but instead of famous songs KaraTribune contains a collection of famous speeches.
Since 1980's the civilization have not made any more significant invention like Karaoke. Yes, we live in karaoke world, as Malcolm Mclaren said. A world of dreams, a world of fame, a karaoke world of ultimate power with no responsibilities.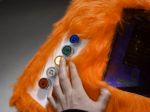 You probably will see it as another toy or game providing you with superpowers and control over the world, but any game we play reshapes our reality.
So what you can do with KaraTribune? You can select one of the speeches from ancient Greece to nowadays and read it aloud or you can make your own speech using
selected text as inspiration notes, you can manipulate reaction of your audience by pressing appropriate emotion buttons: hurray! applause! laughter! whistle! boo! In this way you can also comment the original speech, which cultural or political context might match or differ from your appreciations. If you are lonely in the room, a surrogate audience is projected on a screen for your satisfaction.
KaraTribune in different versions was exhibited/shown on the international performance art festival Navinki2005 in Minsk, Currency 2005 festival in New York, at Mejan gallery, Stockholm 2006, at the 15th performance art conference PAC 15 in Vietnam in 2006, at the Interactive Institute open house show in 2007, Virserums Konsthall in 2009 and others.
technology and credits:
instllation: pc, monitor, video projector, speakers, mic, pulpit, industrial push buttons, basic stamp or similar microprocessor, MIDI interface
programming: Lingo (Macromedia Director), basic
thaks for technical solutions and assistance: Tore Nilsson (miroprocessor programming, circuit, MIDI solution), Erik Wijkström (push-buttons design), KKH (general support for KT v0.9.3 version)
Other credits: respected speakers - all the speaches were accuried from public internet sourses; respected filmmakers - the surrogate audiences were borrowed (captured) from various fiction and documentary films; respected composers
Shows:
2009

Get Set - group exhibition at Virserums Konsthall, Sweden, April-May 2009
2007
KT at the Interactive Institute open house , April 2007, Kista, Sweden
A Modest Invention! at the Centre for Suburban Research in Belfast (feb 17th - 25th 2007)
is a KaraTribune (or empty tribune), a modest invention giving mighty powers without any responsibilities to everyone, power of spoken word, power of fame, glory, historical apprecitation, etc. KaraTribune is a modest invention where one can revise any history, any persona, any word.
What next we will search for in the suburbs of imagination? other Power Tools, Glory Tools? Elecrtrical screws, powered hummers, end user cutters? Perhaps. Power Glory Kit (PGKit) - is what we will try to discover in the Centre for Suburban research, using KaraTribune as magnifying glass.

2006
KT v0.93 - the 14
th
Performance Art Conference, in DaLat, VietNam (no image)
KT v0.9.3 - Stockholm, Mejan gallery 4-15 March 2006
2005
KT v0.9.2 - Stockholm, ID:I Galleri, during Nils Claesson's "Solidarity without Heroes",10 November 2005
KT 0.9.1 - New York City at Chashama gallery, Currency 2005 festival, 10 October 2005
KT 0.9.0 Minsk, Navinki2005 international performance festival, 28 August 2005